A personal reflection and summary of the post-conference meeting of UKCMB Affiliates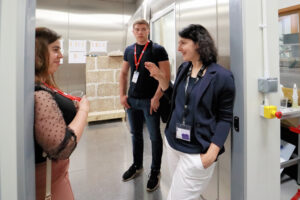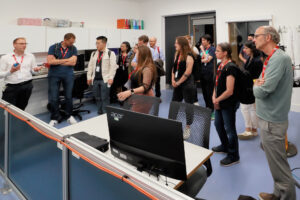 How did it feel to be part of ICMB23 ?
Four weeks have passed since the  second International Conference on Moisture in Buildings (ICMB23) took place and I am still having the excitement of the event. As I was going towards UCL's Here East campus, I was thinking of all the possible things that can go wrong during the day. The feeling of responsibility and hosting is always present, even though my role was on the periphery of the organisation as a PhD student. But once I arrived in the building, Ι felt I could relax and enjoy. It's so important to feel as part of a team and your contribution smaller or bigger can create a collective outcome.
Αs all UKCMB Affiliates students couldn't stop commenting, is from a student perspective that the conference was a resounding success. The event spanned two packed days. My first conference as a PhD student ICMB21 was already a great opportunity to engage in an academic dialogue during the Covid pandemic, but through a screen during a very hot summer in Athens. The second conference, ICMB23, was an experience that has influenced me in multiple levels as a student. I had the chance to engage for the first time in the organisation level of a conference and dive into some of preparation questions behind a big event, taking small initiatives and learning from the organisation committee.
During the conference I found a space for the academic discussion on the pressing issues surrounding moisture in buildings, considering the growing awareness of its detrimental effects on health and quality of life, as well as the urgent need for the aging building stock to adapt to climate change impacts. The first day of the conference showcased cutting-edge research on topics such as mould, ventilation, moisture, and retrofitting in both new and historic buildings. On the second day, advancements on methodologies, focused on modeling and measurement techniques were highlighted, reflecting the significant progress made in the field while emphasizing the ongoing need for methodological refinement. View full programme (pdf) The broad range of topics covered and the diversity of approaches presented demonstrated the vast opportunities and challenges within this interdisciplinary field and sparked conversations that we followed up with food and drinks in the reception. The most impactful take away from the presentations were the exploration of effect of UK built environment context like building types and building features (furniture, etc) on moisture risks and and how specific building characteristics can be related to health risks, which provided a food for though how to implement it to my own research how these parameters affect the occupant behaviour and vice versa.
These discussions and connections sparked also a series of spontaneous conversations between the PhD students, affiliated with UKCMB, which led to a workshop in our monthly affiliates meeting in which we could summarise and exchange our experiences. In this meeting, we discussed the presentations, panel discussion and the enlightening keynotes. We are happy that we were able to share with you a piece of our everyday activities through lab tours, and a small hands-on experiment. Participants joined both virtually and in-person from various sectors including academia and industry, with attendees ranging from early-career researchers to distinguished guests. As a group of early career researchers, the UKCMB Affiliates, we were thrilled to be part of this vibrant and rapidly growing community.
As we highlighted in our discussion, the conference also fostered strong connections with industry professionals, providing a platform for fruitful discussions and knowledge exchange between researchers and practitioners, which has been a first time experience to a lot of us. The invaluable insights shared by industry experts further enriched the conference proceedings. It is a pleasure to communicate the knowledge produced in academia with the practice world and potentially produce together the impactful solutions to navigate real life challenges together.
Following the event's success, we might be overenthusiastic but are already looking ahead to ICMB25. In our affiliates meeting we discussed ways, to contribute as students into expansion of the research perspectives on moisture in buildings, while also improving the experience for both in-person and online sessions. Although there may be limitations, true success lies in the perpetual pursuit of improvement through continuous thinking, the communion of the researcher mindset and the energy of first timers.
We eagerly anticipate ICMB25 and sincerely hope to see you there, as we continue to advance the understanding of what it means and how to ensure a moisture-safe built environment!
In the meantime, to hear regular updates about our work and be informed of future events, join our mailing list. You can also get in touch with us by emailing ukcmb@ucl.ac.uk, and connect with us on linkedIn and twitter.