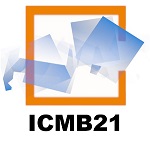 1st International Conference on Moisture in Buildings 2021 (ICMB21)
28-29 June 2021, online*
UKCMB is happy to announce the 1st International Conference on Moisture in Buildings (ICMB21) to be held online in June 2021. The aim of the conference is to bring together academics and the researchbase working on any aspect of moisture induced damage on built environment. We also cordially invite industry to submit papers on their work too. The conference topics include, but not limited to:
Monitoring & modelling of moisture in buildings
Ventilation, airtightness & moisture in buildings
Moisture in existing building & retrofit
Flooding and escape of water
Materials performance and building decay
Indoor mould growth
Moisture in historic/traditional buildings
Financial, insurance & legal context & consequences of moisture in buildings
Impact of moisture in buildings on health and wellbeing
Moisture in buildings education
Climate induced hazards facilitating moisture enrichment in buildings
We welcome all participants whose interests are lying on these or similar topics.
* In light of the current work arrangements and ongoing travel restrictions ICMB21 will now be an online event. Please see our discounted registration fees below.

Abstract submission is now open until 15 November 2020! Click here to register.
Important Dates
May 2020
15 Sep 2020 15 Nov 2020

Extended abstract submissions close
Dec 2020
Peer review reports sent
01 Mar 2021
Final extended abstract submissions close & late registration starts
Registration Fees
£250 £200 – Early Bird Registration (until 25 Mar 2021)

£140 £100 – Early Bird Student Registration (until 25 Mar 2021)
£350 £300 – Late Registration
£190 £150 – Late Student Registration
Keynotes and Plenary Lectures (to be finalised)
Dr Rachel Adams

, University of California, Berkeley/California Department of Public Health – Measuring microbial growth in damp buildings: Ongoing efforts at an age-old public health problem
Prof Jan Carmeliet

, ETH Zürich, Department of Mechanical and Process Engineering – Multiscale unveil of moisture in buildings
Prof John Grunewald

, Technische Universität Dresden, Faculty of Architecture – Application of hygrothermal simulation in building renovation and regenerative heat supply
Prof Hartwig Kunzel, Fraunhofer Institute for Building Physics (IBP) – How moisture control standards should be updated to improve moisture tolerance and practical applicability
Dr Peter Rickaby

, UCL Institute of Environmental Design and Engineering (IEDE) & UKCMB – The Long Road to Quality-Assured, Moisture Safe Retrofit in the UK
Prof Menghao Qin, Technical University of Denmark (DTU), Department of Civil Engineering – Novel functional materials for energy-efficient indoor moisture control
Prof Monika Woloszyn, Université Savoie Mont Blanc (USMB), Laboratoire LOCIE, Solar Academy – Effects of moisture on building energy performance: The difficult assessment
Programme
Programme details will be announced here.
Sponsors