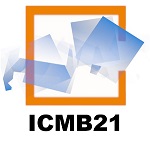 1st International Conference on Moisture in Buildings 2021 (ICMB21)
28-29 June 2021, online*
The proceedings for ICMB21 are now available to view online.
UKCMB is happy to announce the 1st International Conference on Moisture in Buildings (ICMB21) to be held online in June 2021. The aim of the conference is to bring together academics and the researchbase working on any aspect of moisture induced damage on built environment. We also cordially invite industry to submit papers on their work too.
The conference topics include, but are not limited to:
Monitoring & modelling of moisture in buildings
Ventilation, airtightness & moisture in buildings
Moisture in existing building & retrofit
Flooding and escape of water
Materials performance and building decay
Indoor mould growth
Moisture in historic/traditional buildings
Financial, insurance & legal context & consequences of moisture in buildings
Impact of moisture in buildings on health and wellbeing
Moisture in buildings education
Climate induced hazards facilitating moisture enrichment in buildings
We welcome all participants whose interests are lying on these or similar topics.
* In light of the current work arrangements and ongoing travel restrictions ICMB21 will now be an online event. Please see our discounted registration fees below.

Important Dates
| | |
| --- | --- |
| May 2020 | Extended abstract submissions start & early bird registration starts |
| 15 Sep 2020 15 Nov 2020 | Extended abstract submissions close |
| Dec 2020 | Peer review reports sent |
| 01 Mar 2021 | Final extended abstract submissions close & late registration starts |
Registration Fees
| | |
| --- | --- |
| £250 £200 | Early Bird Registration (until 25 Mar 2021) |
| £140 £100 | Early Bird Student Registration (until 25 Mar 2021) |
| £350 £300 | Late Registration |
| £190 £150 | Late Student Registration |
Contact Us
Sponsors