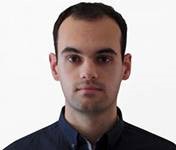 I completed my Bachelor degree in civil engineering in 2014 and my Master degree in 2015 at the University of Porto, Portugal.  I did my master's dissertation on Building Information Modelling (BIM) on a case study of housing plumbing infrastructures. My studies continued by taking the 2017 MRes in Science and Engineering in Arts Heritage and Archaeology (SEAHA) in Bartlett at UCL, London, where I studied tapestry materials. Since then I have been working on my PhD in strain in historic tapestries where I study the deformation of tapestries which were hanging on public display and how this interplay with environmental indoor conditions.
His PhD title is:
Strain modelling in historic tapestries
Brief description of the project:
This project is a collaborative research between UCL, Historic Royal Palaces (HRP) and IBM Research that considers mechanical and environmental testing of historic tapestries using IBM magnetic sensors together with Digital image correlation (DIC) to inform the preservation of the Royal Collection of historic tapestries. This project aims to understand how exposure to indoor environmental conditions results in the structural deterioration and loss of material in tapestries. The influence of moisture and temperature on stress and strain distribution in hanging tapestries is being studied to inform the best conservation techniques to preserve these historic artworks.
Supervisors:
Academic: Dina D'Ayala, Hector Altamirano
Industrial/Heritage: Constantina Vlachou-Mogire, HRP
Industrial: Levente Klein, IBM, Alejandro Schrott, Stony Brook University